History of SYSC
South Yorkshire Sidecar Club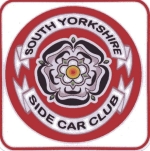 "The South Yorkshire Sidecar Club was formed in February 1958 by six people who met at 25 Stanhope Avenue, Cawthorne, South Yorkshire. As more members joined the club adopted a name, "Happy Wanderers Combination Club". At first the club met in pub rooms, but later moved to premises on Anchorage Lane, Sprotborough. The club room was an old wartime army searchlight unit barracks. Squatters lived in the hut before the SYSC moved in. Many older Federation of Sidecar Clubs members have pleasant memories of events held there.

The club soon became the South Yorkshire Sidecar Club. SYSC members knocked out a wall to make one big club room, built extra toilets, and fireplace. A parking area was made with ashes from Doncaster Power station. A high wire fence surrounded the parking area until 1970 for security, although hardly necessary in those days.

By 1963, the SYSC boasted around 60 members, and held numerous outdoor and social activities. Rallies were at first held in Doncaster, and then at Laughton en le Morthern. Price per outfit was five shillings (25 pence), which included rally fees and a social evening in the Hatfield Arms. An Ovaltine van would come for the day and sell Ovaltine plus biscuits, and was hugely popular.

The SYSC hosted two successful Federation of Sidecar Club Rallies at Thorpe on Baine. near Askern. Inter club 60 to 80 mile treasure hunts were run involving SYSC, Lincoln, and Gainsborough clubs, but in 1966, road event restrictions stopped them. In the late 70`s membership declined to about 8, but then strangely grew again. About this time my great friend, Alf Tindall and I joined. Not that this had great bearing on the re-growth, but down to a policy to get out and recruit new members rather than waiting for them to come. To this end the SYSC displayed at the Classic Bike Show at Belle Vue until it moved to Stafford where it became a Federation of Sidecar Clubs event. The SYSC also put on displays at local transport extravaganzas, which really helped club membership.

The SYSC 25th Anniversary party was held on 7th May 1983. Past members were invited and was a huge success with 83 people filling the clubroom. Some ex-members had not seen each other for years. It was wonderful to be involved.

The end of the 80`s brought the end of an era withnotice to quit the clubroom on the pretext that only 2 club members lived in Sprotborough. More likely the peppercorn rent of £12.50 per year, just didn't fit in Thatcher's Britain. So, on Saturday 17th September 1988, the club held a grand jumble sale. Talk about everything must go! All club assets were for sale, kitchen equipment, cooker, crockery, snooker table, piano, tables, chairs, sofas, sideboards, carpets, the lot. At the end the clubroom was just a shell. A sad day.

On 10th May 2008 the 50 year reunion was even more successful than the 25th. Over 150 people celebrated the occasion and the car park was crammed with combinations of every description. Yet again, members old and new joined together in friendship. Shortly after the SYSC was given notice to quit the later clubroom at an equestrian centre after 18 happy years. Our new and current home is the HQ of the 9th Doncaster Scout group (see map)

The club celebrated its 60th year in 2018. Well over 50 members suggests we must be doing something right. The South Yorkshire Sidecar Club continues as a founder member of the Federation of Sidecar Clubs and is the oldest sidecar specific club.

John Askham, Chairman SYSC